Ridgecrest California Earthquakes
Event Report: Ridgecrest California earthquake series
During the last few days, a series of moderate to strong earthquakes occurred near Ridgecrest, California, a sparsely populated region in the Mojave Desert, approximately 200 km to the north of Los Angeles. The initial earthquake was a moment magnitude 6.4 tremor that happened on July 4, 2019 (17:33 UTC) in the Searles Valley. This quake was followed by a large number of aftershocks. Two days later a moment magnitude 7.1 event occurred on July 6, 2019 (3:19 UTC) as the strongest event in this series.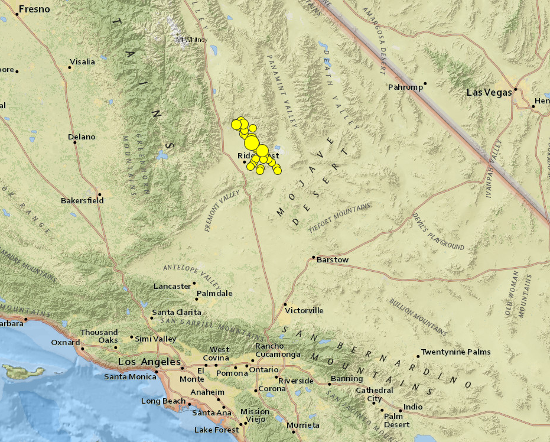 The two main earthquakes were the strongest tremors in Southern California for nearly two decades.
The earthquakes did not occur at the San Andreas Fault but happened as the result of shallow strike slip faulting in the crust of the North America plate.
The earthquake series is not expected to have an influence on the Solidum Funds.
Albeit the shaking was felt as far away as Los Angeles or Nevada, no widespread structural damage has occurred and the economic as well as the insured damage is considered to be minimal.
The portfolio management team remains at your disposal for any additional questions.
Kind regards
The Solidum Management Team